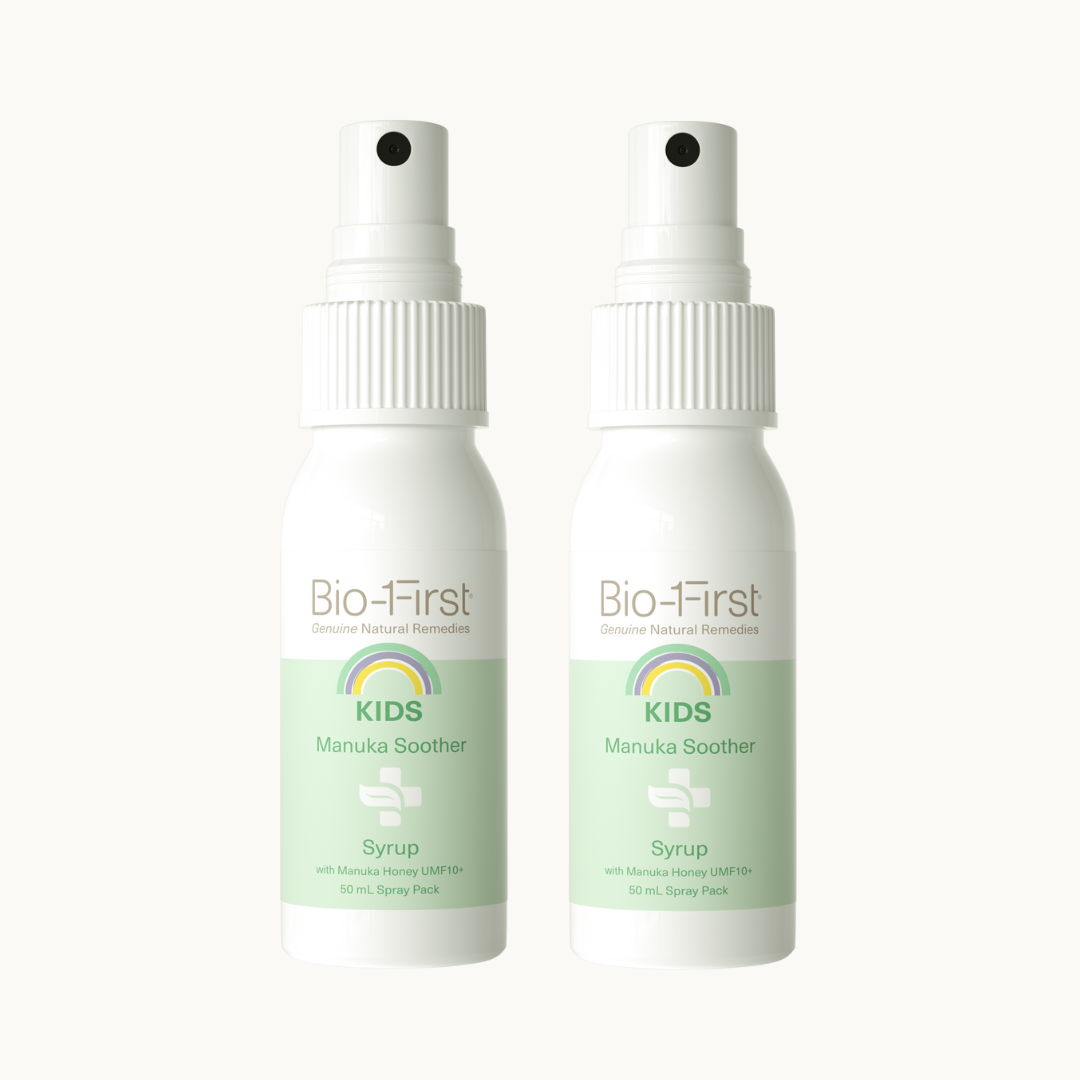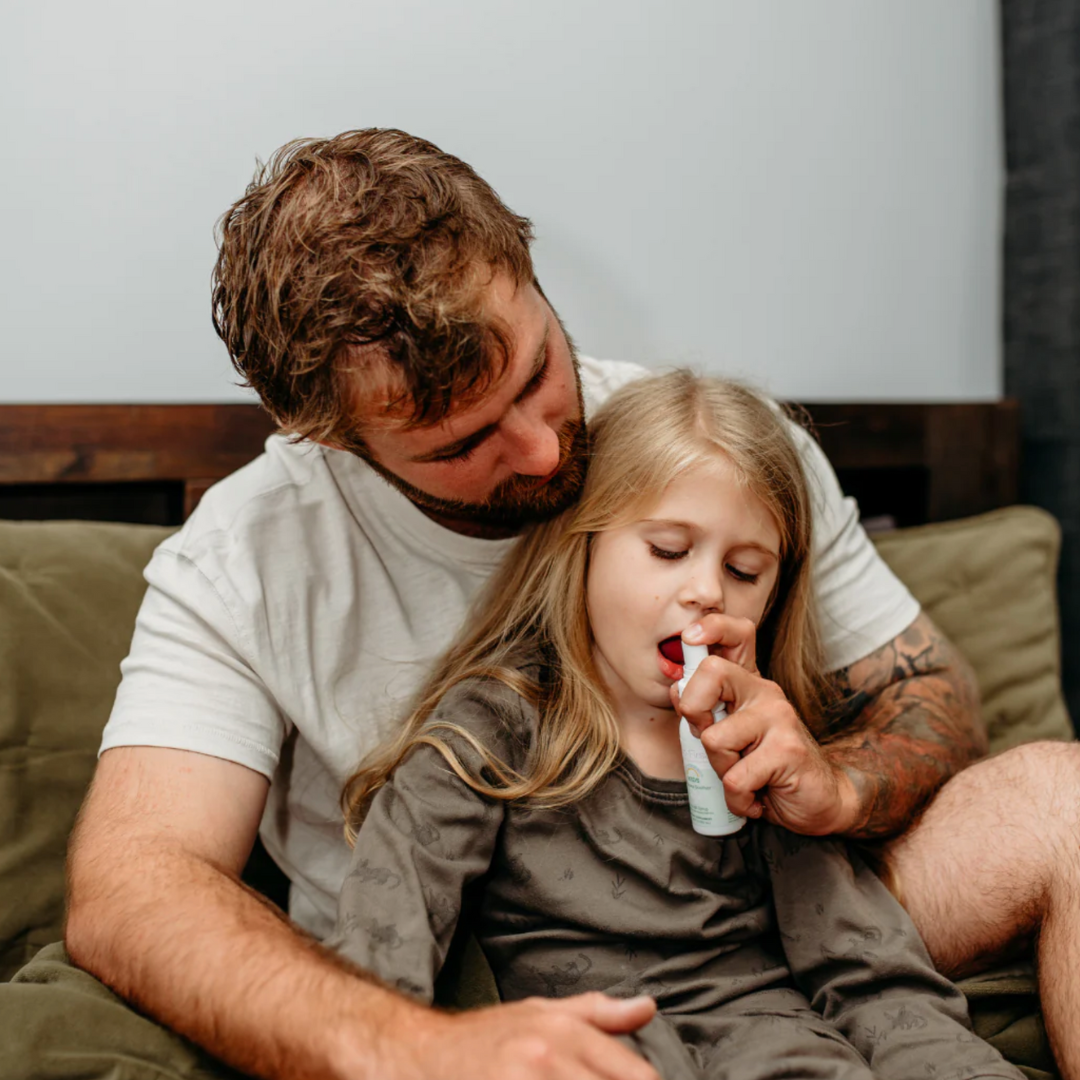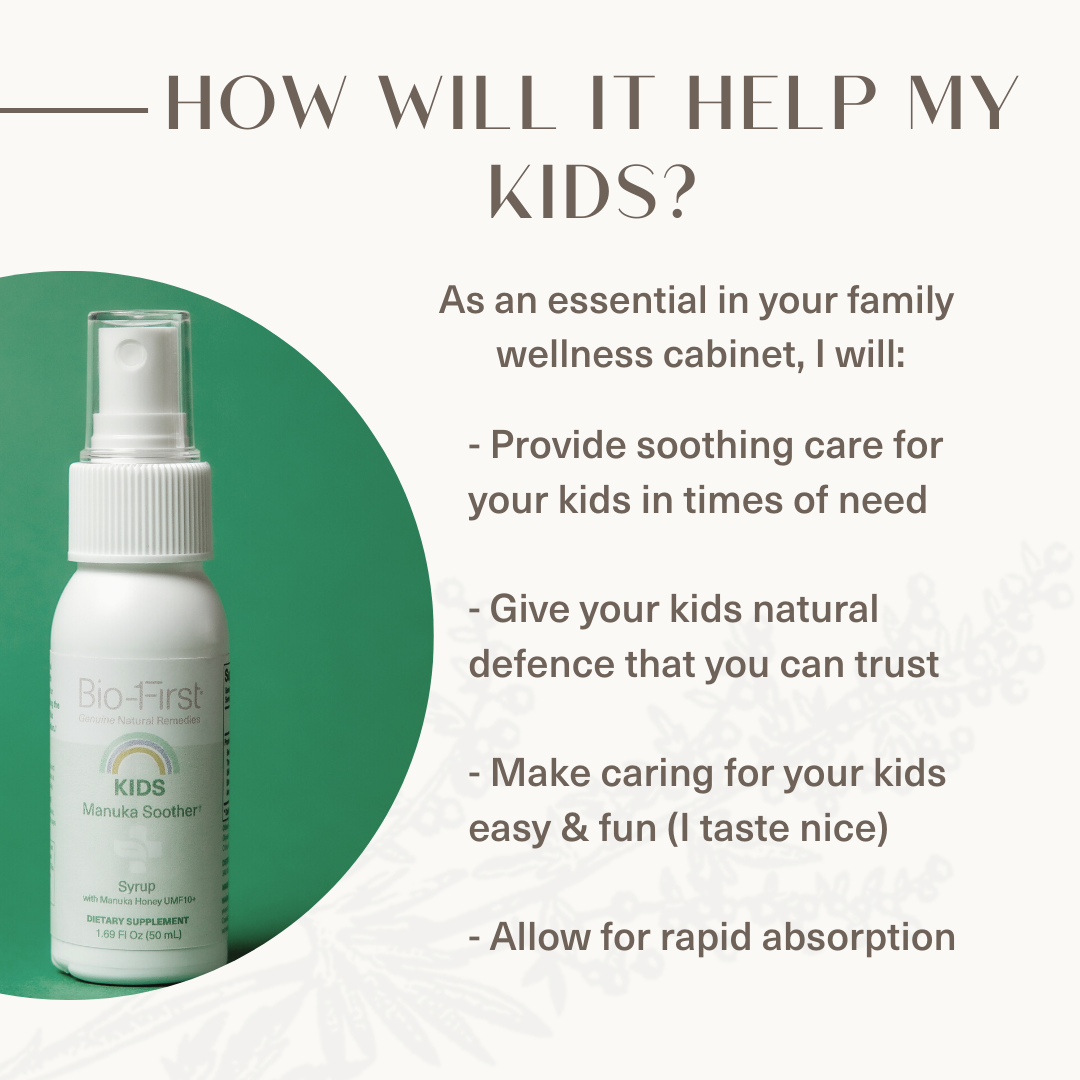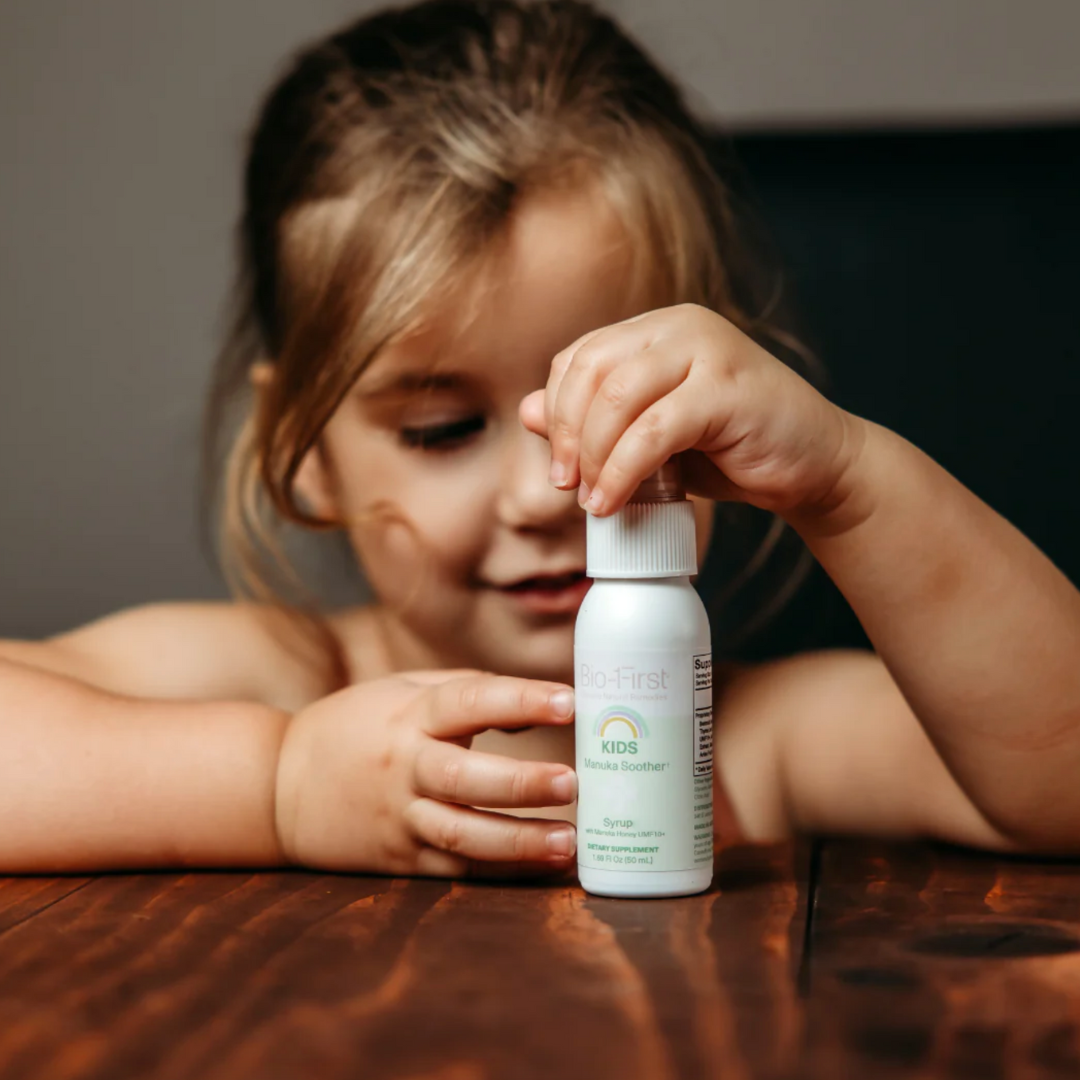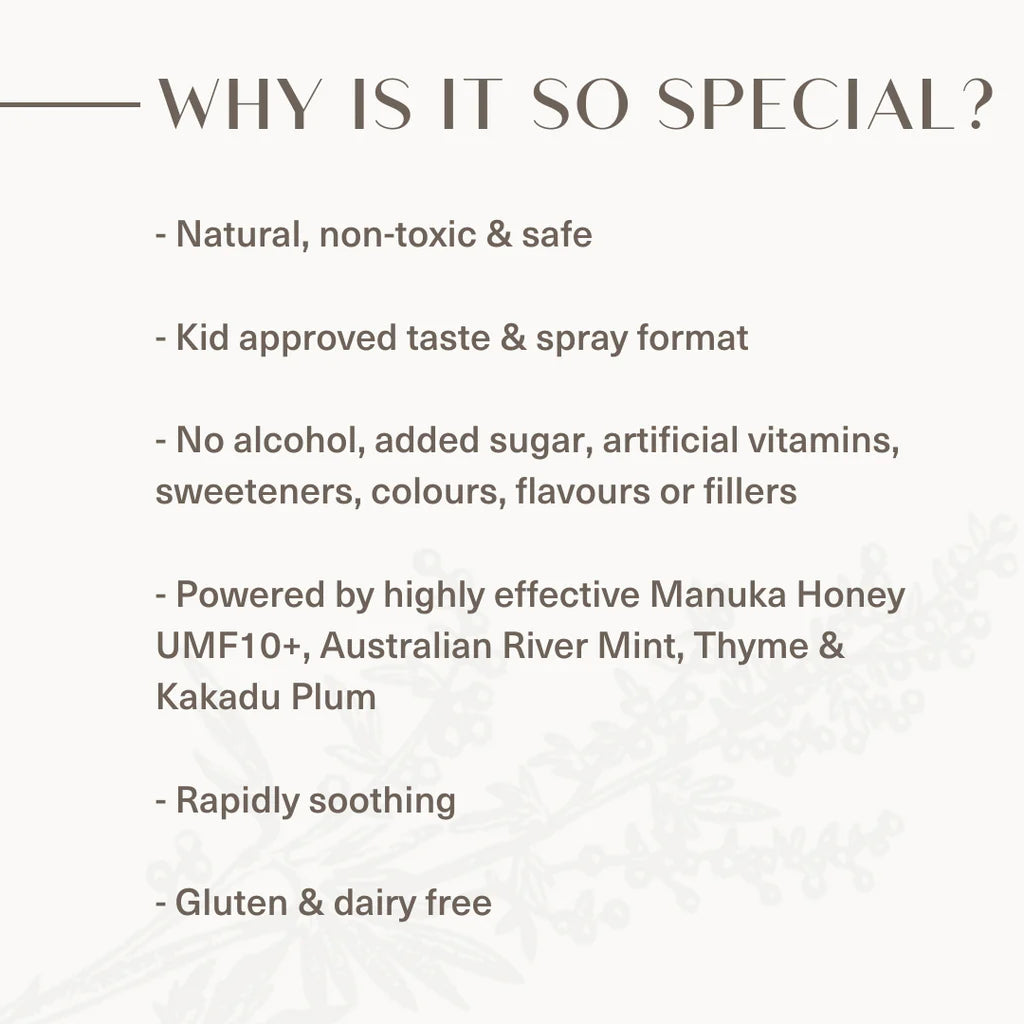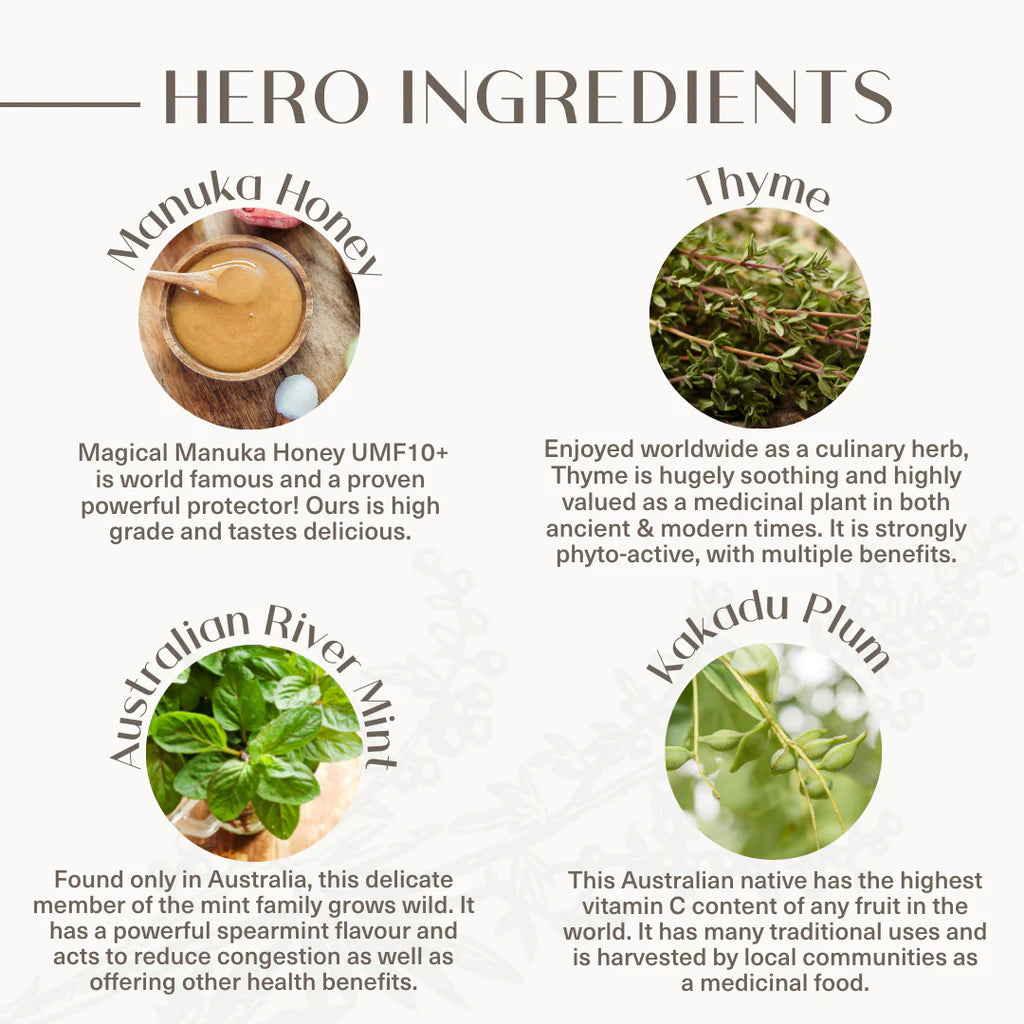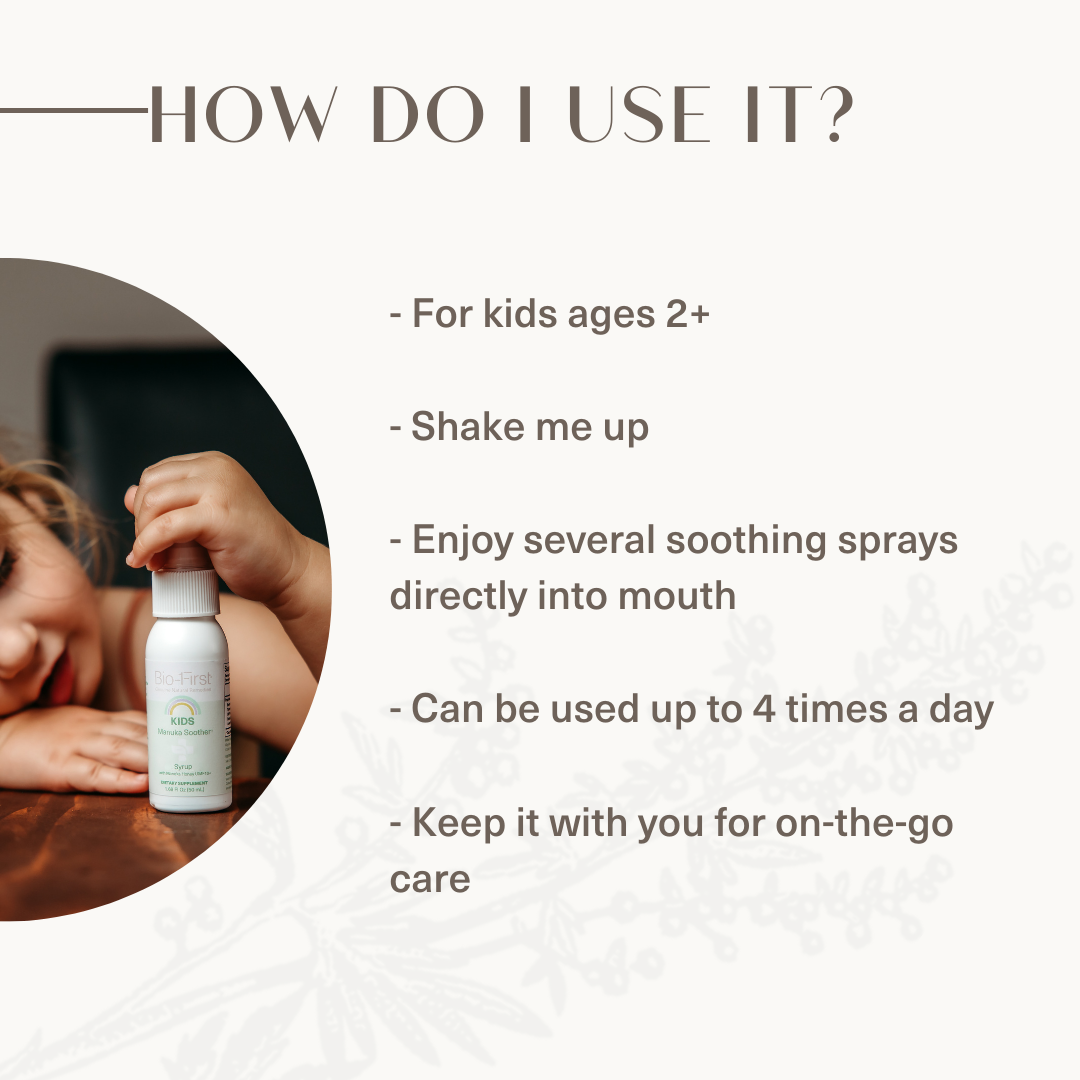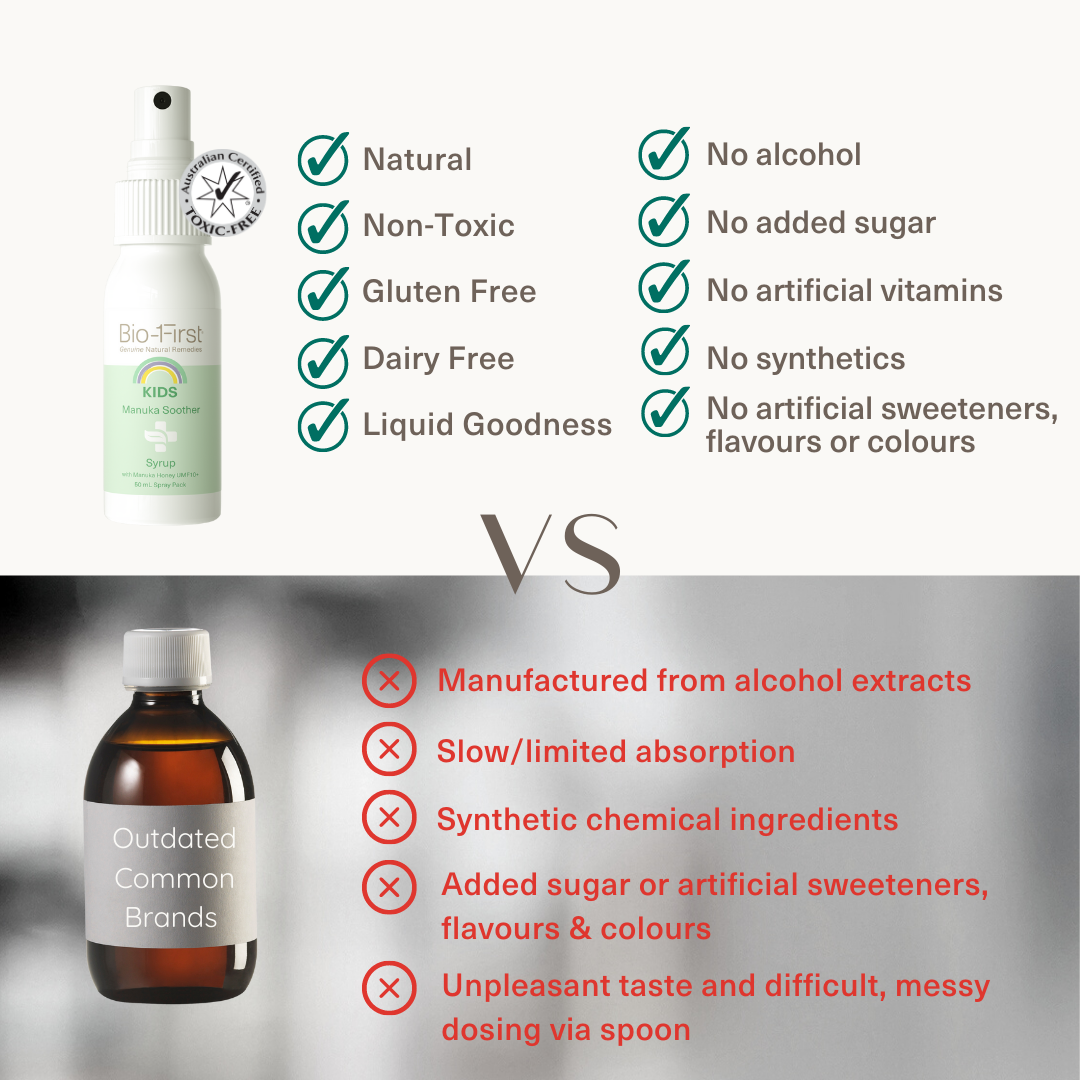 Kids 2+ Protect & Restore Essential Remedy Pack
A delicious defence for kids (2+) to keep them well year round.
🌟 Includes our Kids Manuka Soother Syrup x 2.
✔️ SAME DAY SHIPPING Order by 12pm (AEST)
ADD A 'SELF HEAL' SALVE FOR 5% OFF
Delicious Dual Defence Team for Winter Wellness
Nurture your little one's wellness daily to prevent health issues taking over

Soothe away discomfort at the first sign they might be catching something
✔️ Rapid absorption sprays. Gluten & dairy free.
DESCRIPTION

AWARDS

CARE PLAN

INGREDIENTS
Kids Manuka Soother Syrup
Immediately soothe and calm your little one's discomfort with natural, drug-free care. This fast-acting syrup is powered by proven ingredients Manuka Honey UMF10+, Australian River Mint, Thyme, Kakadu Plum & more. Our combination of superfoods & herbs are bioavailable in a liquid format for the fastest absorption - just when they need it.
This yummy spray is an exceedingly rich source of children's health defence n a rapidly absorbed, super tasty liquid.
Kids Protect & Restore Essential Remedy Pack is powered by nature, backed by science.

Kids Manuka Soother Syrup 

 Australian Certified Toxic-Free
Think Dirty Verified - ZERO nasties
Kids Manuka Soother Syrup


For best results, keep in the cabinet to start use as soon as any discomfort appears.

Shake well and take 5 sprays up to 4 times a day
2 X Kids Manuka Soother Syrup contain the following nutrient-dense beneficial superfoods:
Manuka Honey UMF10+
Magical Manuka Honey UMF10+ is world famous and a proven powerful protector!
Kakadu Plum
This Australian native medicinal food has the highest vitamin C content of any fruit in the world.

Kids Manuka Soother Syrup

Thyme
A strongly phyto-active medicinal plant in both ancient & modern times with multiple benefits.
Australian River Mint
Found only in Australia, this delicate member of the mint family grows wild & has a powerful spearmint flavour and acts to reduce congestion.
❌ Alcohol or Drugs
❌ Synthetics 
❌ Artificial Sweeteners, Colours, Flavours or Fillers

Kids Manuka Soother Syrup full ingredients list:

Purified Water EWG:1
Glycerol EWG:2
Concentrated Beetroot Juice EWG:1
Concentrated Pomegranate Juice EWG:1
Thyme Syrup (6%) EWG:1
Manuka Honey UMF10+ (5.5%) EWG:1
Australian River Mint Syrup (4%) EWG:1
Kakadu Plum Syrup (4%) EWG:1
Anise Syrup EWG:1
Antioxidant (Ascorbic Acid) EWG:1
Preservative (Potassium Sorbate) EWG:2
Citric Acid EWG:1
Amazing results
We started using this before winter and have gone right through a freezing winter with only a few sniffles, completely different to previous winters 👌🏻
Just awesome!
Just wanted to say how much we love your product( the kids 2 pack protect and restore spray) this is my 3rd time restocking it for our 5 kiddos and touch wood we've almost made it through winter with only a few sniffles which is huge for us as normally winter is endless sickness in our household!!
Great for my toddler!
I give this daily to my toddler whos started daycare. She enjoys the taste and she loves the spray function. I feel as though it's boosted her system and kept the bigger daycare germs at bay! I've just ordered some more to survive the winter!
My new family staple
Ever since I have given my son the Manuka Defence Spray, he never got unwell.
There was a time I was unwell. I just constantly gave him both Manuka Defence and Manuka Smoother.
He never got it! This will definitely be a staple at home from now on :)
Manuka Spray
Love using products that are safe for my child. I have been giving this to my son everyday for days and he loves it! This will definitelu be a staple at home!
Dr Jude's Tip: Get lasting, faster results by combining your natural remedies to tackle health issues and support your overall immune health too.
WORLD-FIRST FORMULATIONS TO SOLVE YOUR SKIN ISSUES & ENHANCE YOUR IMMUNE SUPPORT
GENUINE
● Created by our family for yours
● We do the research so you don't have to
● Multi award-winning
● Fully GMP certified & regulated manufacturing
● Australian Made
NATURAL
● Free from all nasties
● Australian Certified Toxic Free®
● Pure Non-Synthetic Formulations
● Complete transparency on ingredient quality
● Safe for the whole family
REMEDIES
● World-first formulations
● Strong evidence-base
● Naturally medicinal
● Superior Self-Care
● Proven ancient ingredients validated by modern science