Manuka Skin Saver - Psoriasis Prone Skin
Natural Manuka honey based gel formulated to soothe and nourish psoriasis-prone skin fast.
👍Ideal for psoriasis-prone skin
🌿 Use on face or body
💚 Provides instant & ongoing nourishment
💚 100%* of people reported reduced scaliness and redness of their skin
✔️ SAME DAY SHIPPING Order by 12pm (AEST)
ADD A 'SELF HEAL' SALVE FOR 5% OFF

Soothe, nourish & hydrate skin prone to psoriasis with our natural, non-toxic medical grade Manuka Honey Skin Saver. Finally, something that works & fast!

🏅2021 Organic Beauty Award Winner - BEST CLEAN™ MANUKA REMEDIES
🏅2023 Global Green Beauty Awards - Silver - Best Honey Based Product

*As reported by an independent 4-week product study
What's this for?

How will it help my skin?

Why is it so special?

How do I use it?

Ingredients
A natural, steroid-free alternative that works for skin:
Prone to Psoriasis

That is red, irritated, dry, dehydrated or itchy
How will it help my skin?
As healthy, natural & steroid-free food for skin, you can be happy & confident in your product choice.
I will:
Calm, hydrate & soothe your skin

Help rebuild & strengthen your compromised skin barrier function

Provide instant & ongoing nourishment

Quickly improve the appearance of the affected area
Natural & non-toxic

No steroids, antibiotics, petrochemicals, parabens, PEGs, phthalates or synthetics

World first formulation of medical grade Manuka Honey, Milk Thistle, Aloe Vera & more

Specifically designed to rapidly feed and care for compromised skin

Provides a light satin protective film over skin

Actually smells like the goodness of nature

Tested on all skin types
Patch test for sensitivity

Then ensure the affected area is clean (avoid application immediately after hot shower)

Apply your Manuka Skin Saver and gently rub in

It should feel instantly calming, cool & protective

Wait for it to dry (the tackiness goes, we promise, it's just that glorious honey)

Reapply frequently as needed to help get your skin back to normal

(Can be worn under make-up)
Manuka Skin Saver contains honey and may not be suitable for use if sensitive to bee products
Bio-First® lives by its ethos of Science by Nature. We extensively research each natural biovital ingredient before inclusion in our genuine natural remedies and work hard to ensure a sustainable supply chain where possible. We align with the definition of natural by the leading natural and organic cosmetic certification body in the world – the International Natural and Organic Cosmetics Association. Our ingredients fall into the 3 classifications of Natural Ingredients, Derived Natural Ingredients or Nature-Identical Ingredients.
Nature-identical ingredients are only allowed when strictly necessary to ensure your safety (preservatives) or because extraction methods introduce too many chemicals. The key characteristic is that they can be found in nature. Here is our full list of ingredients in this product along with their Environmental Working Group (EWG) ratings in brackets (1=lowest risk, 10=highest risk). The ingredient ratings are a hazard score that reflects known and suspected hazards or health impacts linked to the ingredient. EWG is a community 30 million strong, working to protect our environmental and personal health by changing industry standards.
If you want learn more about each of our special ingredients, look at our Ingredient page.
Aloe Vera Gel EWG:1

Glycerin EWG:1

Manuka Honey UMF10+ EWG:1

Milk Thistle Seed Oil EWG:1

Cetearyl Olivate EWG:1

Sorbitan Olivate EWG:1

Prickly Pear Seed Oil EWG:1

Zinc Gluconate EWG:2

Parfum (Naticide, a natural preservative) EWG:1

Polyacrylate Crosspolymer-6 (Nature-identical thickener) EWG:1

Manuka Oil EWG:1

Green Tea Extract EWG:1

Lecithin EWG:2

Glyceryl Caprylate EWG:1

Xanthan Gum EWG:1

Sodium Dehydroacetate EWG:1

Potassium Sorbate EWG:2

Sodium Benzoate EWG:1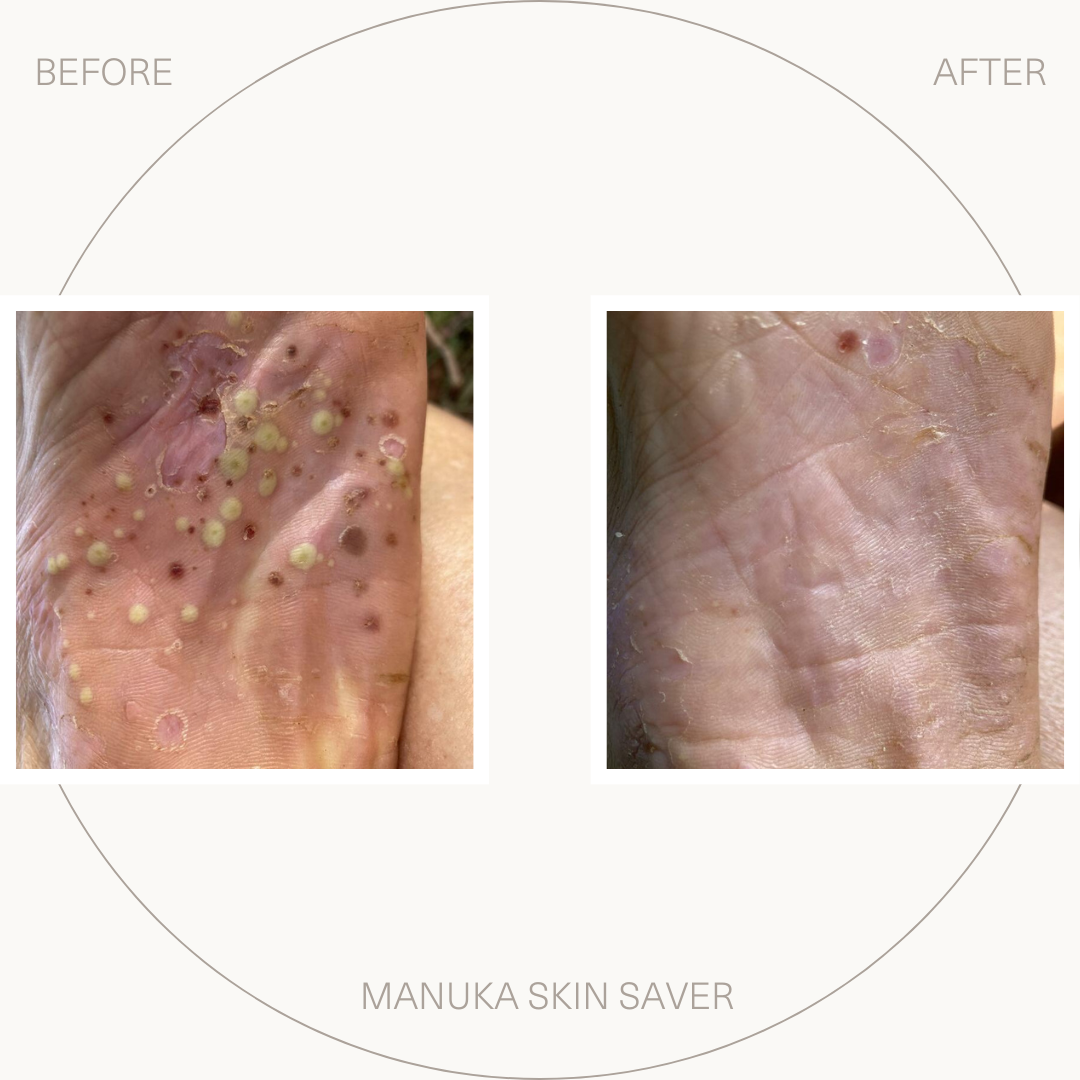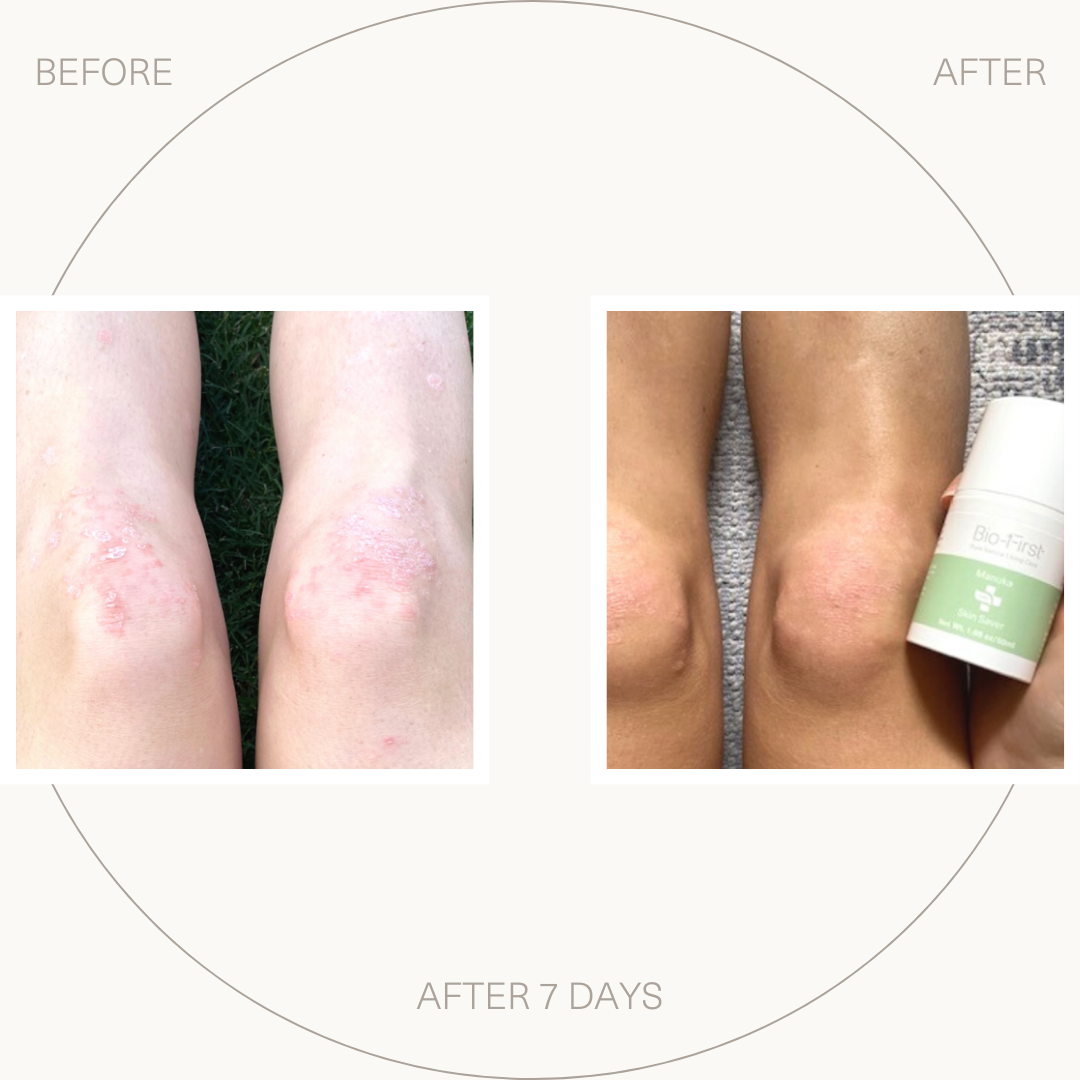 Amazing results. I'm blown away. Treating my 3 year old son's eczema that doesn't respond well to steroids and needs strong fatty ointments / tar creams from the dermatologist. I will be ordering again and trying other products after my great experience with this one. Thank you
Great
Smooth to apply, skin felt silky soft.
It's definitely a Skin Saver
Been trying multiple natural creams but nothing has been able to work quickly enough to stop my little one scratching. So happy with the fast results so far and we are finally getting on top of her red itchy skin. Looking forward to placing another order!
It works!
I'm on my second bottle of Manuka Skin Saver & it works better than the prescription cream that I have for psoriasis prone skin.
Manuka Skin saver is the best!
The only thing that's actually worked:)
Dr Jude's Tip: Get lasting, faster results by combining your natural remedies to tackle health issues and support your overall immune health too.
WORLD-FIRST FORMULATIONS TO SOLVE YOUR SKIN ISSUES & ENHANCE YOUR IMMUNE SUPPORT
GENUINE
● Created by our family for yours
● We do the research so you don't have to
● Multi award-winning
● Fully GMP certified & regulated manufacturing
● Australian Made
NATURAL
● Free from all nasties
● Australian Certified Toxic Free®
● Pure Non-Synthetic Formulations
● Complete transparency on ingredient quality
● Safe for the whole family
REMEDIES
● World-first formulations
● Strong evidence-base
● Naturally medicinal
● Superior Self-Care
● Proven ancient ingredients validated by modern science