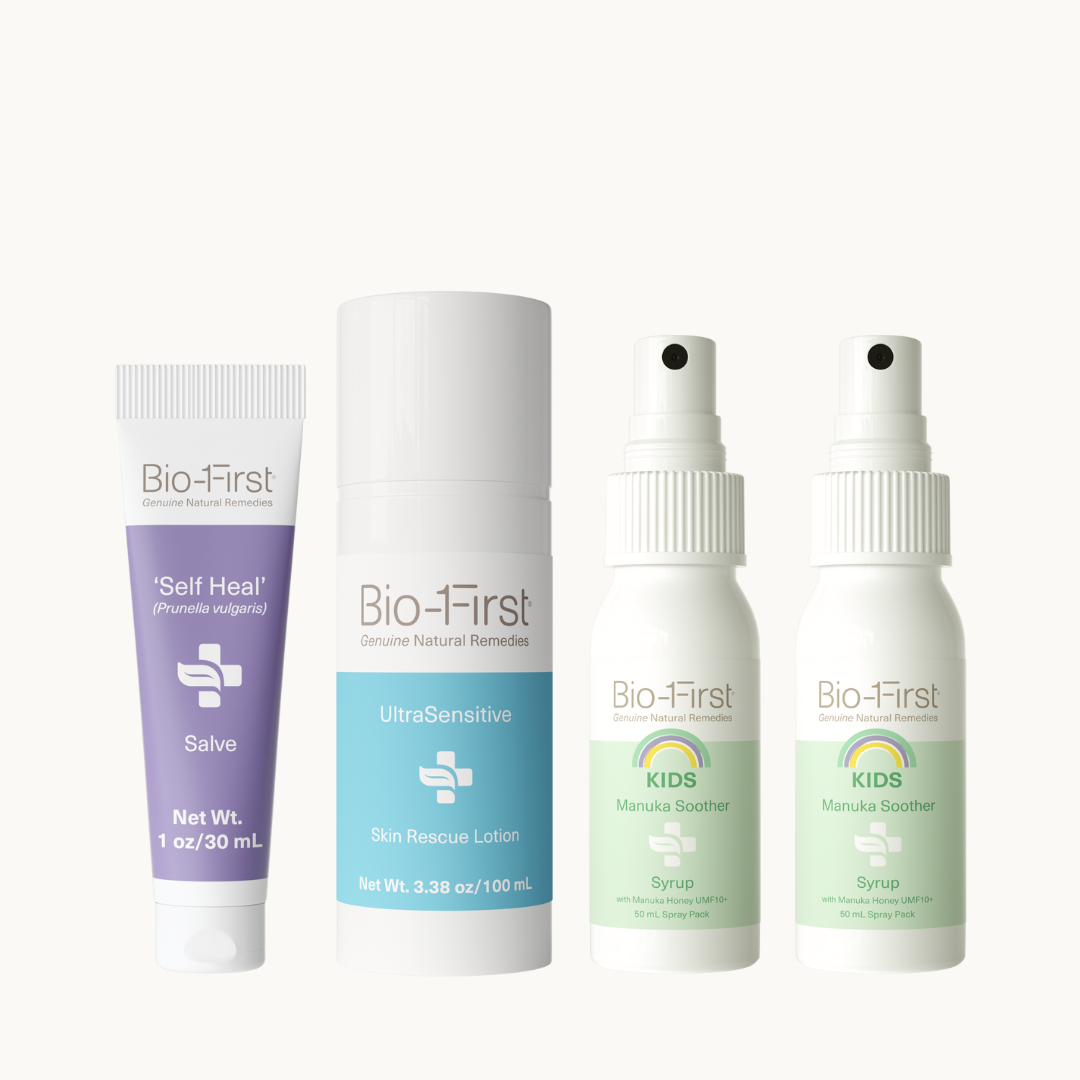 The ultimate skin and wellness support kit for kids (2+) with powerful ingredients straight from nature's medicine cabinet.
🌟Includes our award winning UltraSensitive Skin Rescue Lotion, 'Self Heal' Salve, and our Kids Manuka Soother Syrup.
Kids Manuka Soother Syrup is currently out of stock. The good news is you can order your bundle now! The in stock products will be sent & your Kids Manuka Soother Syrup sent out separately once available mid-Dec '23.
✔️ SAME DAY SHIPPING Order by 12pm (AEST)
ADD A 'SELF HEAL' SALVE FOR 5% OFF
Be prepared for all that your kids get up to!

This versatile kids remedies kit is your answer to all those growing-up mishaps from red irritated skin to a cut, sniffle or supersensitive skin - and much more.

Full of multi award-winning essentials 🏅 - become the family health hero you were born to be, and grab yours now.

Included: 1x UltraSensitive Skin Rescue Lotion, 1 x 'Self Heal' Salve, 2  x Kids Manuka Soother Syrup.

What are they for?

How will it help me?

Why are they so special?

How do I use them?

Ingredients
Skin Health Range - will help solve & care for skin issues related to Eczema, rashes & lip sores.

Health Defence Range - will enable you to enhance how you care for your family's wellness. Our remedies are free from nasties - NO alcohol, sugar or synthetic ingredients & taste delicious.
Think of us as your essential multi-purpose remedies for the family. No more second guessing.

Our award-winning formulations are proven to help care for that unexpected skin issue and enhance your kids' health defence the natural & non-toxic way.
Powered by nature

Backed by extensive research

Formulated by a PhD in Natural Medicine

Proudly Australian made

Australian Certified Toxic Free®, NO nasties
Our Genuine Natural Remedies are really easy to use. You can find simple instructions for use on each product.

Please note that some of our products contain honey and may not be suitable for use if sensitive to bee products.
Bio-First® lives by its ethos of Science by Nature. We extensively research each natural biovital ingredient before inclusion in our genuine natural remedies and work hard to ensure a sustainable supply chain where possible. We align with the definition of natural by the leading natural and organic cosmetic certification body in the world – the International Natural and Organic Cosmetics Association. Our ingredients fall into the 3 classifications of Natural Ingredients, Derived Natural Ingredients or Nature-Identical Ingredients.

Nature-identical ingredients are only allowed when strictly necessary to ensure your safety (preservatives) or because extraction methods introduce too many chemicals. The key characteristic is that they can be found in nature.

Please refer to individual product listings for their full ingredient lists along with their Environmental Working Group (EWG) ratings in brackets (1=lowest risk, 10=highest risk). The ingredient ratings are a hazard score that reflects known and suspected hazards or health impacts linked to the ingredient. EWG is a community 30 million strong, working to protect our environmental and personal health by changing industry standards.

If you want learn more about each of our special ingredients, look at our ingredient page.
True relief
This product is wonderful. Both my little ones love the taste. To know there is something on the market that is all natural and helps protect their immunity gives me great relief. Cannot recommend more.
A little bottle of goodness
My daughter LOVES the taste of the kids Manuka Defence spray.
When I first gave it to her, her eyes widened and she said "more please!!"
With all the sickness circling around school she was feeling a little run down and so she now has this every morning to keep her well.
It's great as she is able to take it herself, I also love that it's all natural with amazing ingredients and no added sugar or alcohol.
It will be a staple in our home!
Amazing!
My daughter initially complained that the self heal salve stung her open scrape. But we are familiar with using essential oils and know that they can be pretty strong and tingly at first. So she opted not to wash it off. After 2 used, the scrape's appearance had improved dramatically!
Best ever products
Have used this product and it is excellent , have even introduced friends to the product. Self heal alone is an incredible herb.
Awesome product, awesome service
Have used the herb self heal for many years. Your product has made an excellent balm and also love the syrup. Will certainly recommend your products. Thanks heaps
Dr Jude's Tip: Get lasting, faster results by combining your natural remedies to tackle health issues and support your overall immune health too.
WORLD-FIRST FORMULATIONS TO SOLVE YOUR SKIN ISSUES & ENHANCE YOUR IMMUNE SUPPORT
GENUINE
● Created by our family for yours
● We do the research so you don't have to
● Multi award-winning
● Fully GMP certified & regulated manufacturing
● Australian Made
NATURAL
● Free from all nasties
● Australian Certified Toxic Free®
● Pure Non-Synthetic Formulations
● Complete transparency on ingredient quality
● Safe for the whole family
REMEDIES
● World-first formulations
● Strong evidence-base
● Naturally medicinal
● Superior Self-Care
● Proven ancient ingredients validated by modern science